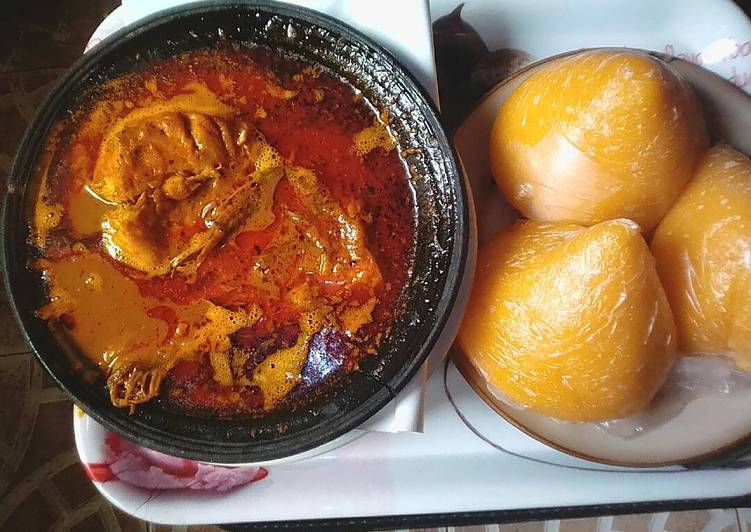 Predominantly a soup for Niger Deltans, Banga soup goes really well with any of your favourite swallow and even white rice but a typical Niger Deltan foodie wouldn't have their banga with anything other than Starch.
This meal graces the table of many homes in Delta state more than a couple of times a week and if you're still wondering why, then get the ingredients, make it, taste it and you would understand.
What you need
Palm Fruits
Beef
Dry Fish
Vegetable: Scent Leaves  or dried and crushed bitterleaves
onions
crayfish
Salt and Chilli Pepper
Ogiri Okpei (Iru)
Stock cubes
Before cooking
Cook the palm fruits in water until it becomes soft to extract the palm fruit juice.
Cook the beef and the dry fish with 1 bulb of diced onion and the stock cubes till done.
Wash and cut the scent leaves into tiny pieces.
Cut the remaining bulb of onion. Pound the crayfish, iru and pepper in a mortar and set aside. You can also grind them with a dry mill.
Cooking proper
 Set the pot of palm fruit extract on the stove and start cooking at high heat. Leave to boil till you notice some red oil at the surface of the Banga Soup. If you think that the Banga Soup is watery, cook till the soup has thickened to the consistency you like.
Now, add the beef, dry fish and stock, the onions, crayfish and pepper and leave to boil very well.
Add the scent leaves or other vegetable and salt to taste. Leave to simmer for about 2 mins. The Banga Soup is done.
Serve with Starch, Eba, Semolina, Amala or Pounded Yam .
The post Nigerian Dishes: Banga Soup appeared first on Information Nigeria.